Gentle reader, I've been meaning to write regular blog posts about living through the COVID-19 pandemic. I have no reasonable excuse for not accomplishing this small feat, while others in my community are testing people for COVID, tending to very sick patients, or planning the Alberta response to this insidious virus.
Which begs the question: What have I been doing with my time?
It's not that I've been idle. I have two writing projects on the go, and I'm scrambling to figure out how to teach my business communications course online. I'm popping into online meetings with other SAIT instructors, talking about strategies for virtual meetings, virtual assignments, virtual teamwork. We are all trying to find the virtue in the virtual.
…
Bear with me… I've opened a new window and clicked on the virtual version of the Oxford English Dictionary, to find out if "virtual" is meant to be virtuous, in some etymological realm.
Aha!
According to the OED, "virtual" is related to the Latin word, "virtus," which can mean anything from manliness and courage to … virtue.
The OED, which can always be counted on to plumb historical depths for its entries, invites me to consider a Middle French cousin of "virtual" – "virtuel," which refers to "a faculty of the soul."
A faculty of the soul, gentle reader.
But how does living virtually relate to the soul?
Since I have few useful services to provide during this time of crisis, I will volunteer to explore this riddle on your behalf, gentle reader. It's the least I can do.
Allow me to suggest that when you log in to a Skype session, or a Zoom meeting, or a Microsoft Teams session, you are revealing some faculty of your soul. You are screwing up your courage, unmuting your mic, switching on your camera, and sharing the thousands (millions?) of pixels that make up your virtual soul.
Your soul is broken down into little bits of light and transmitted to other little bits of light (pardon the technical explanation ) so that we can continue to connect. We see each other's faces on our screens – they are fuzzy, incomplete, too close, too far, too blurry (what is that plant in the background? Ficus?). These virtual faces move like robots, leaving gaps of silence or stillness during our conversations.
Politely, we pretend not to notice these gaps. We sit patiently, waiting for the bits of light to come to life again, to move gracefully, naturally, before our eyes. If the face goes still for too long we say politely, "Sorry, I think you've frozen." And we wait for the frozen party to thaw, hoping that our own bits of light are holding themselves together, representing our soulful faculties with some degree of accuracy to the party on the other end of our screen.
Thus we connect virtually, through gaps and gaffes, because it's all we have right now. It's the best we can do. We connect our virtuous selves because our pixels are what remain of our souls in this seemingly soulless time.
It is all too easy, after all, to sink into a feeling of soullessness as we keep ourselves up to date, reading the news, listening to the marvelous Canadian women who offer new numbers, new closures, new rules. We attend to the marvelous Theresa Tam and Bonnie Henry, and Alberta's own medical maven, Deena Hinshaw, who has been memorialized on this brilliant tee.
Source: Tee Chip
As we hear the news from our medical officers, we learn of social distancing, community transmissions, exhausted health care workers. We learn of grave illnesses, impossible choices, and death. It's hard not to feel hopeless at times.
We're reading of doctors in Italy, choosing which patient to put on a ventilator. EMS workers in New York unable to save a health care worker. We've seen the pictures on the news of empty Italian streets, makeshift hospitals in Wuhan, an American nurse begging people not to hoard food so that she isn't faced with bare shelves at her neighborhood grocery store.
Where, then, is the soul in the merciless world of the pandemic?
Well, gentle reader, the answer is buried in those news stories, lying beneath the surface, quiet and quick, standing by. At the ready, despite everything.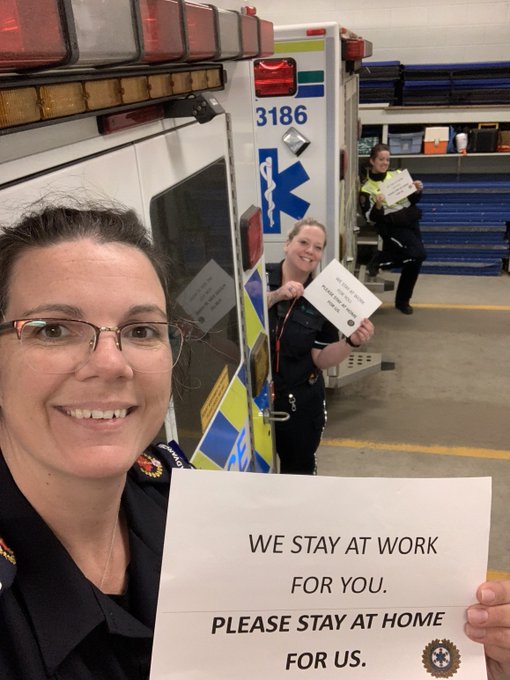 Source: Twitter: AHS EMS @ahs_ems
Tucked into those articles about Italian doctors and New York EMS workers and Alberta health care professionals are the people who are baring their souls to take care of their cities. It could be a neighbor they're looking after, but it's more likely a complete stranger – someone who carries the speck that could make the health care worker sick. Our frontline clinicians walk into hospitals every day, donning masks and shields, to tend to us in our most fragile moments. Knowing that their peers around the world are succumbing to the virus.
And nevertheless – to borrow from Elizabeth Warren – they persist.
Source: Global News
Here, surely, are all the tender, courageous, selfless faculties of the pandemic soul.
And surely the rest of us have enough courage in our souls to stay home. To give other people that six-foot distance. To self-isolate if we feel poorly, or get groceries for those who are self-isolating.
It's not that hard to stay home, is it? I say that even as I feel the walls around me closing in, just a little bit more, each day. I say that as I think of my mother who lives alone, and is increasingly apprehensive about spending each day alone, as the weeks – likely months – of the pandemic begin to crawl by. I say that as I miss my two sons, who live not far away.
Here, in the growing privacy of our own homes, we are testing the virtue of our virtual souls. In a week or so I will attempt to teach communications to students over the internet. This afternoon, I will play cards over Trickster.com, trying to stay in touch with the virtual souls of my bridge group. We've been playing together for decades – we've gotten together despite hectic work schedules, kids' hockey games, dissertation writing, vacation times and more.
But now we are separated by a microscopic sphere, named for its resemblance to a crown.
I see this image and I see not a crown, but the rubbery toys my kids used to have – a ball with little suction cups all over it, which would stick to virtually (!) any surface. I think I hate those suction balls now. Take that, courageous soul. I hate a small rubbery toy. So much for the soaring selflessness of the human spirit.
And it's not because I have to play cards online. That much I can easily bear. It's because of the folks who still drive down empty Calgary streets and go to work each day, taking care of those who have succumbed to the ball-shaped virus.
With those folks in mind, I tell myself that my soul can be flexible enough to adapt to this virtual world. I can resolve, now, to rise above the annoyances of staying home. These annoyances, after all, are couched in other, more enjoyable side-effects of the virus. I can't remember the last time I spoke to my sons so often, having long luxurious chats about health, change, politics and … souls. I talk to my brother on the phone, I email my sister, I text with my niece. And my mother has learned how to Zoom. These are pretty precious side-effects, are they not?
But to return to my resolutions.
I resolve to support health care workers to the best of my abilities, to celebrate the many Calgarians who are out there baring their souls in taxis, trucks, grocery stores, walk-in clinics and pharmacies.
I resolve to teach my mother to play bridge over Trickster.com, so she feels somewhat less disconnected from friends and family. I resolve to give fellow walkers more than six feet as I pass them along the Silver Springs ridge. I resolve to blog more regularly through the pandemic, in hopes of voicing some of the thoughts, fears and resolutions experienced by those around me, staying safe and keeping others safe within their homes.
Nevertheless, I resolve.
And that, gentle reader, is where my virtual virtue comes to an end on this March day. Take care of all the faculties of your soul.